You can keep William S. Burroughs: I'll choose Edgar Rice Burroughs every time, and wish that David Cronenberg would adapt some of Edgar's work,
not just William's
. I've been reading Burroughs a fair bit lately (
here
and
here
), and that's going to continue for the near future because his Pellucidar series is way too entertaining for me to give it up now.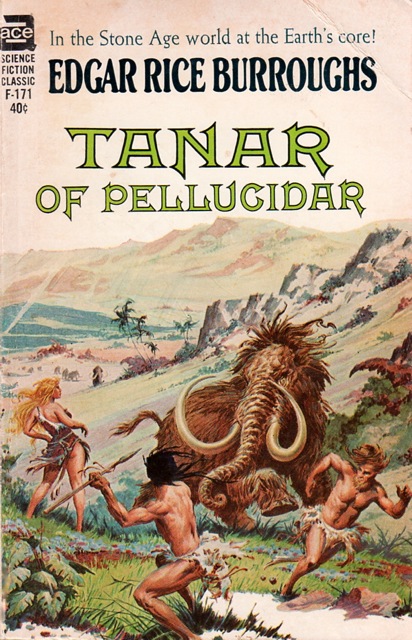 A caveat, though: I will never ever be quite 
one of these people
. Taking a suitcase of Tarzan books to Africa, and leaving single copies hidden in different places, would be kind of a neat ironic postcolonial performance art project, but....
Anyhoo,
Tanar of Pellucidar
is the third novel in Burroughs' Pellucidar sequence, though "sequence" might be too strong a word for these related texts. The first four of them occur basically in sequence, but a couple of them are harder to connect to the rest. In the case of this novel,
Tanar of Pellucidar
is the third book of the four-novel series opening with
At the Earth's Core
and closing with -- I'm so excited I can barely type the words, since I just bought a copy today at
Russell Books
--
Tarzan at the Earth's Core
.